Deal: Grab the HTC One A9 for 50% off its retail price
13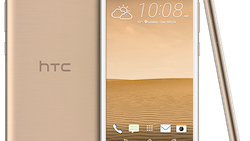 If you're in the market for a new smartphone but don't want to spend a lot of money, your options are now greater than they've ever been before. Good smartphones have gotten really cheap, and cheap smartphones have gotten really good. This is a trend that's been picking up a ton of steam in the mobile landscape for the past couple years, and it's one that looks to be chugging right along through 2017. It's very possible to spend under $300 and get a very capable handset, and we've got a deal today that will allow you to do just that.
The fine folks over at Newegg are currently selling the HTC One A9 in Topaz Gold with 32GB of expandable storage for just $249 completely unlocked. The phone normally retails for $499, so you're looking at a solid savings of $249 (or 50%). For that price, you're getting a phone with a 5-inch display and resolution of 1920 x 1080, Snapdragon 617 processor, 3GB of RAM, 13MP main camera, and a 2,150 mAh battery. All of this tech is packed inside an aluminum body that pays quite a bit of homage to Apple's iPhone, but similar looks aside, the One A9 is sleek, sturdy, and still offers a 3.5-millimeter headphone jack.
Just a couple of weeks ago,
HTC released an official update to the One A9
that brought Android 7.0 Nougat to the phone - making the phone's software experience more fluid and feature-rich. If you're interested in picking up a One A9 for just $249 for yourself, you'll want to act fast. At the time of this writing there are only 11 hours left for the deal, and Newegg is offering free 3-day shipping so that you won't have to wait around forever to get your hands on your purchase.