Deal: Brand new and unlocked Samsung Galaxy S6 edge+ for $599
33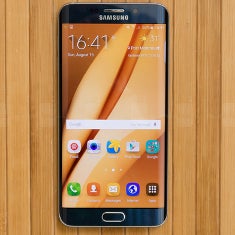 We've reached that point in the year at which most of the second-wave releases have been announced. Chief among them,
Samsung's Galaxy S6 edge+
, which, besides being a bit of a long name to reference, is essentially a larger edition of the original
S6 edge
. Samsung has made some key changes to its high-end line-up this year, doing away with long-standing features like the microSD support in favor of finesse and style. It's a decision that has certainly divided opinion, but one aspect that has remained fairly constant amid the overhaul has been the price. Owning a device of the caliber of the S6
edge+
is as expensive as it has always been, but for now, you can grab the unlocked version for just $599.
The handset is sold through eBay, which some will naturally balk at. But for a device like the S6
edge
+ -- listed as brand-new and unused -- it's a steal, and for the money, you get quite a bit of bang for that buck.
The version on offer comes with 32 GB of on-board storage and a choice of either gold or black coloring. Sporting a 5.7-inch Super AMOLED display with a 1440 x 2560 resolution, the S6 edge+ follows a number of handsets in the ranks of quad-HD. The powerful Exynos 7420 SoC is accompanied by a whopping 4 gigs of RAM, while the 3000 mAh battery should help to keep the lights on for a decent stretch.
Sold through
Monoprice
on eBay, $600 is still quite a lot to drop on a smartphone. But to its credit, this phablet does have most of the goodies one could possibly dream of
(aside from, well, a microSD slot and removable battery - but let's not go there..).
As we noted in our
Samsung Galaxy S6 edge+ review
, it's quick, sleek and offers generous battery life, so if you're interested in grabbing it at a fraction of the usual price, more info can be seen at the source.