Cricket TXTM8 3G messaging phone offers fast data speeds for $100
5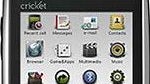 Cricket customers who desire messaging phones, but don't want to suffer with slow as molasses data speeds, are in for a special surprise that'll keep them productive on the go.
The Cricket TXTM8 3G A410 is an affordable messaging phone that's being dubbed as Cricket's first device "with high-speed EVDO capabilities." Set at the no-contract price of $99.99, it features a QVGA display, 2-megapixel camera, full QWERTY keyboard, stereo Bluetooth, microSD card slot, email, and "real time web browsing."
So if you can't stand waiting for web pages to load, the Cricket TXTM8 3G is available for purchase through their retail stores across the country and online. Luckily, buying it through their web site will result with a web-only discount that brings the cost down to $79.99 – which shouldn't be too shabby for most people.
source:
Business Wire
via
Unwired View