Credit card companies more trusted than tech companies with mobile payments
1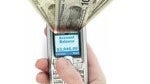 All of the headlines you see for this story around the web say something to the effect of "Consumers don't trust Apple, Google or Microsoft with mobile payments." Of course, the truth is quite different from that. No, the three tech giants aren't at the top of the list, but they aren't at the bottom either, and looking towards the future, we would expect that all three continue to gain consumer trust. The study by Ogilvy & Mather found, unsurprisingly, that credit card companies are at the top of the list, while Facebook and (surprisingly) eBay are at the bottom. As usual, we should point out that the study was done using 500 online respondents, so we are working with a fairly small sample size here.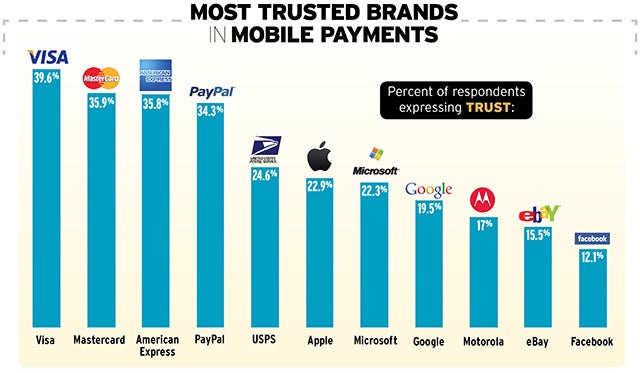 As you can see, Google, Apple and Microsoft rank in the middle of the pack, but let's consider company history for a second. Credit card companies like Visa and Mastercard have been in the business of handling consumer payments for longer than any of the big three tech companies have even existed as companies, and yet none were named as trusted by more than 40% of respondents in the study. It's impressive to see relative upstart PayPal as high as it is on the list, especially considering how low its parent company eBay ranks.
On the other end of things, Apple and Microsoft have been selling things to consumers for a while, but only relatively recently have begun handling payment for consumers, and even that has been just in their own branded software/media stores. Google has the reputation of giving things away, and until setting up the Android Market, never really had a financial relationship with customers. Given the short history of these companies, it's surprising to see them as high as they are, about even with the US Postal Service, and far ahead of Facebook and eBay.
As we move forward, more and more of our daily lives will be traveling through our mobile devices, which means that the tech giants will have more and more opportunity to gain consumer trust. The transition from handling payments within their own stores to the world at large will be a difficult one, but we're pretty sure that if you looked at consumer trust in mobile payments as a continuum, Apple, Google and Microsoft are most likely on the rise as they continue to create new ways to strengthen financial relationships with users.