Cosmo for Guys magazine scores a creative "iPad Head Girl" launch promo on the streets of New York
7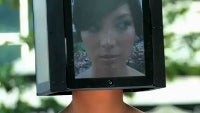 The iPad-only magazine Cosmo for Guys from Hearst, the publisher of Cosmopolitan, had a stunt promo on the streets of New York by an "iPad Head Girl", who was wearing a cube made of four iPads around her head.
"
The concept and analogy here is to show a guy 'getting inside a girl's head' and sort of 'reading her mind' by flipping through the magazine pages on the iPad. The reason for that is: it is the first magazine for men that is written by women, so for the first time women are letting guys in on what they think,
" says Thinkmodo's Creative Director Michael Krivicka, who is behind the viral marketing campaign.
The iPad headgear has been designed by Clockwork Apple, and only a projection of the girl's face on the iPads' displays was at anyone's disposition for touching, which evoked pages of said Cosmo for Guys magazine appearing on the iPads.
To aid strolling around New York, a camera was installed in her purse, and she wore video glasses that relayed the camera image, so as she doesn't bump into people and objects all the time. Insert your own joke in the comments, after watching the iPad Head Girl video below.
via
TNW