Corning announces the first smartphone that uses Gorilla Glass 4 - it's the Samsung Galaxy Alpha
28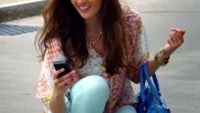 We're sure having a lucky day for announcements!
After the ultra-thin Vivo X5 Max made the rounds
, durable glass maker Corning revealed that it partnered with Samsung for the eponymous Galaxy Alpha smartphone. Thanks to their combined efforts, Sammy's iPhone challenger is the first smartphone whose screen is protected by Gorilla Glass 4, the latest and most resistant implementation of the technology.
Its protection properties aside, Samsung relied upon it to make the Galaxy Alpha chassis a thin - if unimpressive at this point - 0.27in (7mm). The screen's front glass is just 0.016in (0.4mm) thin, which constitutes a fine toughness to slimness ratio.
Corning says Gorilla Glass 4 is its most damage-resistant cover glass to date, dramatically improving protection against damage from device drops. Corning reliability experts examined "hundreds of broken devices" to understand how and why cover glass breaks in actual use. Their findings say that damage caused by surface contact accounted for more than 70 percent of failures in the field. These efforts resulted in a new glass that's thinner, but tougher.
The Galaxy Alpha's metal build and sleek profile, as well as its 4.7-inch screen size, position it as a direct rival to the Apple iPhone 6. Apart from the metal frame, the Alpha looks a lot like the Galaxy S5 in terms of design, and it too has a removable plastic back cover. The handset is powered by the Samsung's Exynos 5 chip that supports category 6 LTE data. The phone has 12-megapixel main camera that is capable of recording 4K Ultra HD video at 30 frames per second.
For more information on Gorilla Glass 4, check out Corning's video. Hmm, is it only attractive white women who drop their smartphones?