Compared to last year, fewer potential buyers want one of the new iPhone models
18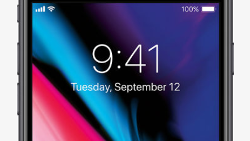 Compared to last year, fewer consumers want to buy one of the new iPhone models according to RBC Capital Markets. The securities firm conducted a survey and found that 64% of possible iPhone buyers want an
Apple iPhone 8
,
Apple iPhone 8 Plus
or an
Apple iPhone X
. That compares with last year's survey, which showed that 71% of prospective iPhone buyers wanted an
Apple iPhone 7
or
Apple iPhone 7 Plus
.
RBC has a simple explanation. By not eliminating 2015's
Apple iPhone 6s
, the tech titan has kept available too many options for possible iPhone buyers to choose from. 4,000 people took the survey, which included questions about their familiarity with tech products, and their future phone purchasing plans.
Like other brokerage houses, RBC is still positive and bullish on Apple because of the higher price of the iPhone X. More than half the buyers in the survey said that they will purchase the highest storage variant of the iPhone X and the higher price tag will boost Apple's revenue, its margins and its profits. Add these together, and RBC sees a higher stock price ahead for Apple. The 64GB version of the iPhone X will cost $999 while the 256GB model will cost $1,149. Pre-orders start on October 27th with the launch set for November 3rd.
"Outlook on units could be less positive in the initial months. On aggregate, 64 percent of prospective iPhone buyers preferred the new generation of iPhones, which is slightly lower than 71 percent for iPhone 7/7+ models last year. We think this is likely due to Apple not phasing out iPhone 6s and giving a wider offering to customers."-Amit Daryanani, analyst, RBC Capital Markets
Just to be sure, Apple's shares have fallen 6% since the September 12th unveiling of the 2017 iPhone models, the Apple Watch series 3 and the Apple TV 4K. That is a $50 billion drop in market value over that time period.
source:
CNBC