Cincinnati Bell treats their home market to 4G HSPA+
2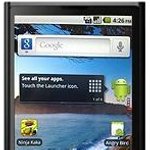 Cincinnati Bell announced today that they have launched their HSPA+ 4G network in their home market of Cincinnati which will work with the network's Huawei Ascend X 4G smartphone.
Fortunately for owners of the Huawei Ascend X 4G, HSPA+ coverage will not only be limited to Cincinnati. The smartphone will be capable of roaming off of other 4G networks when available.
Cincinnati Bell is making claims of its network being able to provide download speeds of up to 10Mbps which they say is twice as fast as the 4G networks on Sprint, AT&T and T-Mobile. However, there was no mention of Verizon's LTE network here.
If this HSPA+ network can truly deliver these download speeds than owners of the Ascend X 4G living in Cincy should be very pleased. The smartphone itself is actually not too shabby either. It boasts a 4.1-inch screen, Android 2.2 Froyo, a 1GHz Snapdragon processor and a 5-megapixel camera with 720p video recording capabilities.
Anybody from Cincinnati giving this phone and network a try? Tell us what you think in the comments below.
source:
Phone Scoop