Chicago PD warns restaurant owners not to deliver orders placed by cell phones
3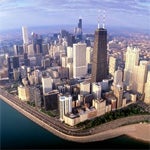 In certain areas of Chicago, there have been a string of robberies targeting delivery drivers. The common thread? Orders that are placed by cell phone.
The Chicago police department is taking extreme measures to combat this recent outbreak of crime by issuing a business alert to business owners in Chinatown and Hyde Park to not accept any order that is called in by a cell phone.
One driver in particular, George Smith, spoke with CBS Chicago and recounted his experience being robbed at gun point earlier this month. He said he took a cell phone order and when he arrived at the destination with the order, "They said, 'Give me everything you've got'"
With the decline in landlines and the prominence of cell phones, it seems that banning cellular orders would put too big of a dent in business, placing owners in a precarious position of keeping their doors open or putting their drivers at risk. One restaurant manager, Michael Bjordal, said of the alert, "We don't know if we're going to go to quite that extreme yet," he says. "We're going to use our common sense. A lot of it is just literally sizing up the area.
source:
CBS Chicago
via
Textually