Caustic 3 review – a powerful music creation tool in the palm of your hand
4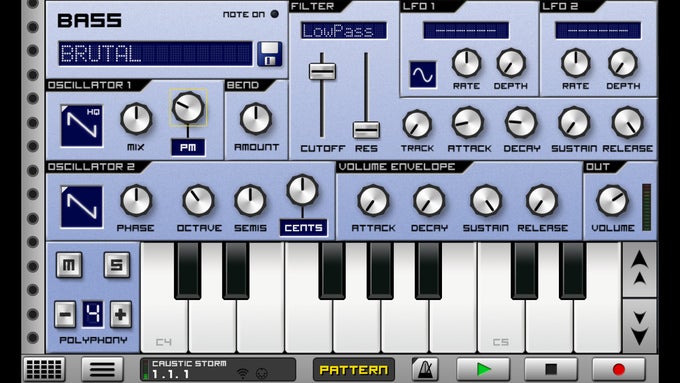 Have you ever come across an app that was so compelling and so inspiring that you simply couldn't put it down? We know we just did. It is called Caustic 3 and it is an app the kind of which you rarely get to see launched on a mobile device. Think of it as a music studio crammed into your smartphone or tablet, with synthesizer racks, sampler rigs, equalizers, mixers, effects, and automation tools. Sounds complicated, we know, but trust us, any creative individual can get the hang of it with a little effort.
Speaking of which, the user interface of Caustic 3 is composed of multiple racks that you flip through with the help of a slider on the side. Below each rack is its respective piano roll where you input notes and build patterns. These patterns are combined to create songs using the sequencer window, which is at the very bottom of the stack.
We did not run into any issues with Caustic 3 during our testing. The software runs perfectly fine on a modern smartphone or tablet with no buffer underruns even when a boatload of tracks are playing simultaneously. CPU usage is moderate even under heavy load, as indicated by a gauge at the bottom of the UI. Of course, results may vary, depending on how powerful of a device you're running the software on.
In conclusion, Caustic 3 is a wonderful app that is in many ways as capable as its professional, desktop-grade counterparts. What's more, it demonstrates how an Android smartphone or tablet can be used to create original content. Best of all, anyone with an Android device is free to try it without paying a dime. Caustic 3 is free to try on Android, as long as you don't mind the lack of a save feature. The complete Caustic 3 app will allow you to save and export your tracks in exchange for $9.99.
Pros
Extremely capable music creation tool
Video tutorials help you master Caustic 3
Cons
Hard to use by absolute beginners
| | |
| --- | --- |
| Developer: Single Cell Software | Download: Android, iOS |
| Category: Music & Audio | Price: Free to try on Android, $9.99 to unlock full version |