Case-Mate DIY case Hands-on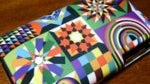 When you go out looking to buy a case for your highly priced handset, there are obviously a myriad of retailers you can pay a visit to and fetch yourself anyone of their offerings. However, you can sometimes realize that another person waiting on line at the checkout counter is buying an identical one to yours. Sure you want your phone to still look all special, despite being encased, but you don't want to see other people sporting the same exact one as you. Case-Mate knows this all too prominent issue when it comes to shopping for a case for your handset, but their do-it-yourself cases offers a personalized look that will make you feel proud of your creative imagination.



Available to a variety of devices, like the iPhone (3G/3GS/4), BlackBerry Curve 8520, BlackBerry Bold 9700, and iPod touch, Case-Mate's DIY cases employs an in-depth process in crafting your own unique creation. Naturally, you can upload your own image which can be used with your case, but it has to be at a high enough resolution for it to accept. If that's not your kind of thing, you can design your case by using an eclectic mix of tools which basically puts you in the control of everything – like an artist ready to paint a masterpiece. The online tools at your disposal essentially allows you to fine tune every single aspect of your design to the nail and tooth – something that people with a lot of time will undoubtedly appreciate. In fact, you can expect to spend a good deal of time in coming up with your creation thanks to Case-Mate's depth of personalization options.



As for the actual case we created for the iPhone 3GS, we decided to simply start with a default template and add some additional elements to the "barely there" option. Naturally, the end product looks exactly like the one we designed on their web site. Thankfully, it also comes shipped with a screen protector for the phone which definitely adds more value to the $34.99 pricing of it. Needless to say that it's hard to fathom seeing someone else sporting the same exact DIY one you create with Case-Mate.