Can vs Should: Minecraft on an Android Wear watch demoed
9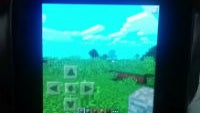 When a software developer/hacker/scientist gets bored, the question of could vs should can often go out the window. The classic example is obviously from
Jurassic Park
and whether it was a good idea to create dinosaurs, just because you could. Today, we've gotten another example from Corbin Davenport, who decided to see what would happen when he sideloaded Minecraft on an Android Wear device.
Davenport obviously used Minecraft Pocket Edition, and interestingly enough, it didn't require anything fancy to get the game working, and the game runs fairly well. Android's responsive design lets the game scale down to the 320 x 320 display without any problems, and the Snapdragon 400 runs the game reasonably well, though there is some obvious lag. The only reason the game isn't exactly "playable" on the Samsung Gear Live is because the display is far too small for the touch input required to play.
Surprisingly, this is actually not the first time that Minecraft Pocket Edition has been loaded onto a smartwatch. We did a quick Google search and found that two years ago, a few different people loaded
Minecraft PE onto a MOTOACTV
smartwatch. The game didn't run as smoothly, but it did work.
At the end of the day, sure, you can load Minecraft on your watch, if you want. But, we'd suggest that maybe it is better to save devices for their best use case, meaning play Minecraft on your computer, console, or tablet, and use your Android Wear watch for your crafting guide.