California court rules that employers must reimburse employee work related use of personal cellphones
16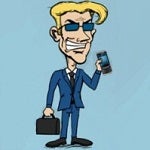 Do you use your mobile phone on the job? Does your company provide you with a device or do you work in a BYOD (bring your own device) environment? If the latter, are you reimbursed for any part, or all, of your mobile phone expenses?
In the case of Cochran v. Schwan's Home Service, a Court of Appeals has ruled that employers are liable to reimburse such expenses as part of the state's Labor Code.
How much needs to be reimbursed? The court only states, "a reasonable percentage" of the cell phone bill should be compensated for work-related activities on the phone, whether it is phone calls, or email, or other uses. The rate plan was immaterial in the court's eyes, moreover, it did not matter who was actually paying the bill. If an employee happened to be on a family plan or something, or maybe a relative was paying the bill, that is of no concern to the employer.
The ruling does not go into effect for 30 days, but it may have employers wondering what to do and how to do it. One common way will be to require employees to actually log their usage and submit an expense report. A simpler way would be to offer a monthly stipend to offset the monthly bill. The method for the most control would be for a company to set up a business account with a given carrier, and provide dedicated devices for work.
If you use your phone for work in California, expect changes in the coming weeks.
source:
CIO