CAT shows off just how tough its B15 smartphone really is
14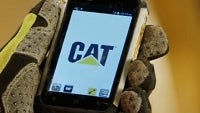 CAT, the brand of Caterpillar, a company that is known for heavy equipment like bulldozers, excavators and off-road super-sized dump trucks, is also in the mobile phone business too.
About a year ago, the company
announced and released the B15 smartphone
, a toughened, IP67 certified, and mil-spec 810G device. The B15 not only can put up with a dunk in the water, or a drop in the gravel pile, but has a chassis that can put up with the knocks and vibrations and crushes.
Spec-wise, the B15 will not turn any heads and it remains unchanged from a year ago. It is running Android 4.1 Jelly Bean, with a 1GHz dual-core MediaTek CPU. The rest of the spec sheet is equally mid-range, but it is thoroughly complete, GPS, a camera in front and in back, Wi-Fi, Bluetooth, 1GB of RAM, 4GB of expandable storage, and about 16 hours of talk time.
It is not a 4G/LTE device, but in the environments where heavy civil construction is going on, especially in areas under development, the longer battery life from the 2,000mAh cell takes priority. For a tough device it is not that heavy either, about 6 ounces (170 grams). That is lighter than a
Nokia Lumia 920
, and just a fraction of an ounce heavier than the new
HTC One (M8)
, and not even an ounce heavier than the
Samsung Galaxy S5
.
However, if you were to take a 4.6 ton CAT 277D loader and run over any of those other devices, chances are they will be damaged, severely. CAT wanted to prove that point with a new video reminding folks how tough its B15 smartphone was. So, it placed 600 of them on the ground for the loader to run over.
At about $360 per unit, that is about $217,000 worth of smartphones in the dirt, getting run over. They all survived the ordeal. The B15 is available through industrial retailers and can operate on AT&T or T-Mobile.