Bracketron Mushroom GreenZero and Stone Battery hands-on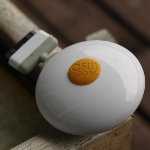 Less than a week before Earth Day is here, you're probably wondering what you can do on the greenest day of the year to prove your commitment in saving the planet. Well, you can actually help reduce your power consumption by picking up two of Bracketron's latest smartphone accessories.
First up on the list is none other than the
Mushroom GreenZero
, which as its name implies, looks almost something like a mushroom. Donning a fitting green paint job, the Mushroom GreenZero is an
energy efficient wall charger
for your device. In addition to the iPhone/iPad specific one we're checking out, Bracketron also has one with a USB port on it – thus, allowing you to charge your device with its accompanying USB cable. We have to say, it really has an interesting design, instead of the plain boring slab of black plastic we're accustomed seeing packaged with our devices. In order to activate its charging mechanism, all we have to do is press down on its mushroom head for a few seconds, which enables its LED light to blink. Of course, it's nice that it automatically turn off once our iPhone and iPad are fully charged – plus, it
consumes zero idle power
to conserve energy.
Conversely, we also checked out
Bracketron's Stone Battery
, which is a stylish looking mini battery that packs a
1,000 mAh battery
. On one end, there's a USB cable that allows us to charge it via any USB port, while on the other, there's a 30-pin connector for our iPhone. Again, we dig its intriguing looking literal stone design, which beats those typical blocky external battery charging packs. As expected, it's unable to fully charge our iPhone 4S, but nevertheless, it at least provides some juice for those rare occasions we find ourselves far away from an outlet.
Well folks, those are two eco-friendly solutions if you'll be celebrating Earth Day come April 22nd. If you're interested in picking up either device, the Mushroom GreenZero and Stone Battery retails for $29.28 and $39.95 respectively. Obviously, you can probably pick comparable items for cheaper, but heck, at least you can sleep at night knowing that you're doing your part in saving the planet – one device at a time.