Blackberry 8800 Live Pictures
1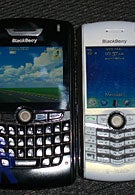 BoyGenuis got his hands on the new Blackberry 8800, the successor of the 8700. It is relatevely large device with full realQWERTY keyboard and now support for Wireless Network (Wi-Fi) in some ofits versions (probably the one for T-Mobile USA). The Cingular 8800 willlack the support of WiFi though, and is expected to launch on 20February. BoyGenius reports responce times, better speaker than the one of the Pearl and gourgeous screen.
The BlackBerry 8800 is quad-band GSM/
EDGE
phone without camera,featuring GPS and microSD slot for memory expansion. It also hasmultimedia players, just as the Pearl. Expect our hands-on experiencewith the 8800 from 3GSM in Barcelona next week.
Source:
BoyGenius Report