BlackBerry accidentally posts landing page for BBM for Android and iOS
10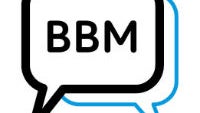 At this point, there are two ways to view the leaks that we've seen about the Android and iOS BlackBerry Messenger app: 1) BlackBerry is filled with incompetent employees; or, 2) BlackBerry is intentionally leaking bits in order to drum up a little bit of interest and media attention. We're really hoping it's the second option, but given the state of the company, it's hard to say that the first option would be much of a surprise.
Recently, we saw that BlackBerry "accidentally" posted the
user manuals
for the Android and iOS versions of BBM, but pulled the posts quickly. Today, the page which has been the sign-up site for info on the cross platform BlackBerry Messenger was changed to a page that said "BBM for Android and iPhone is here." Of course, the download links didn't work.
The page did have some interesting info though: most importantly, BBM Voice, BBM Video and screen sharing features will not be available in the apps at launch, but are expected to be added in updates this fall. No word on exactly when BBM for Android and iOS will launch, but it will be sometime in the next few weeks.