BlackBerry Z10 specs review
29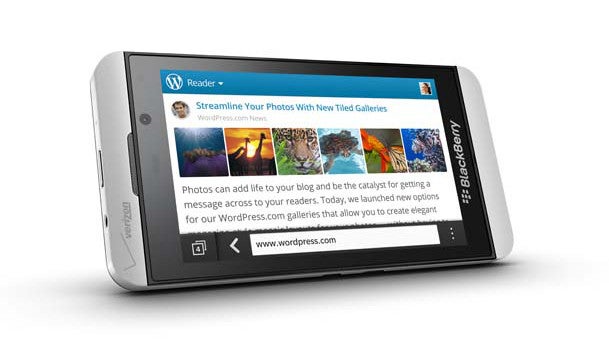 With today's announcement of the BlackBerry 10 platform and the high-end Z10 smartphone, BlackBerry (formerly RIM) showed that it doesn't have the slightest intention to play the silly specs game. The BlackBerry Z100 will neither have an octa-core processor, nor will it feature a 5" screen. Instead, the new flagship will keep things nice and compact, while still being powerful enough in order to deliver a perfectly smooth user experience. We approve.
Still, this is a specs review and our goal here is to take an in-depth look at what the Z10 offers in the hardware department, as well as how its whole specs sheet compares to those of the other platforms' top representatives.
Design
We like that BlackBerry has taken its time do design a beautiful product. The design of the Z10 is both modern and strict. For that reason, it may not appeal to all consumers out there, but it will certainly be appreciated by those who want a more neutral-, yet stylish-looking smartphone. Everything in the external design of the device exudes class. Sure, the Z10 is made of plastic, but it seems like a pretty good example of a plastic phone done right.
Display
Here is where it gets interesting. The Z10 has a 4.2" LCD touchscreen with a resolution of 768 x 1280 pixels, which puts it in HD category. We shouldn't really miss the Full HD resolution here, because it would have been a giant overkill for this 4.2" screen. The current one is enough to deliver a very solid 356 ppi, so you can be sure that everything will be extremely sharp and easy to read.
BlackBerry hasn't announced a pompous name for the specific tech used for the display, like 'Super True HD IPS Plus Retina Screen', but judging by the quality of the screens of previous Berries, we are willing to believe that it will be very good.
If we pit the Z10's 4.2" display against something like the Galaxy S III's 4.8" display, it's apparent that the latter will be better suited for enjoying content such as pictures, movies and games, though other areas like web browsing won't necessarily suffer that much from the 4.2" size, because the way the software works is of bigger importance there. And hey, 4.2 inches aren't a bad size at all!
Processor and Memory

The silicon ticking inside the BlackBerry Z10 is a dual-core 1.5 GHz of an unknown type. We won't be shocked if it turns out to be a Snapdragon of some kind, but we can't be sure. The fact that it's a dual-core doesn't bother us much, because the system is very well optimized and everything runs quickly and fluidly. However, a quad-core solution might have helped BlackBerry achieve a better battery life.
In terms of system memory, the Z10 will sport a healthy amount of 2 gigabytes. With all of this focus on system processes running in real time in BB 10, we are sure that users will be thankful for the 2 gigs of RAM. This is one area where the Z10 is perfectly comparable to its rivals from other platforms.
Internal storage will be 16GB - a good, but not great amount, so we hope that BlackBerry will add options with bigger storage spaces to the portfolio. Still, the device does have a hot-swappable microSD card, so storage space shouldn't be a big concern.
Camera
An 8MP camera will be taking the photos on the BlackBerry Z10. Of course, it's got all the needed goodies like autofocus, 1080p video recording and an LED flash. We can say anything about the image quality right now, but we sure hope that it will be above average. The good news is that BlackBerry has taken the time to add various software features like Time Shift, which is like the Burst Shot options that became so popular lately. Basically, it allows you to take a quick succession of photos and then choose the one that you like most. The cool thing is that this is all done in an intuitive way, and with a good-looking interface. This is the kind of stuff that we want to see (especially in the work of Android manufacturers)!
Since BBM will now support video calls, the Z10 naturally features a front-facing camera as well. You'll be able to make video chats using a 2MP FF shooter with support for up to 3x digital zoom and 720p video recording. Once again, the Z10 is as good as any other competing handset in this area. On one hand, this is good, because it shows that BlackBerry has put a lot of effort into its new platform, but on the other, we would have liked it more if there was some thing to leapfrog the competition.
Software
BlackBerry 10 is an operating system that is, in a way, similar to Windows Phone. It is similar because it gets a good number of features and functionality types and offers them in a new, different way. For example, there's more focus on multitasking, on that so-called natural "flow" of things withing the OS. It utilizes gestures for some of its key features to work, like having to swipe up and then right in a single motion in order to get to the BlackBerry Hub or some particular message that you've just received. This can be done from wherever you are in the OS - you could be watching a movie, and then with a single gesture you can simply peek into the messaging app. A cool thing is that if you don't lift your finger from the screen, but reverse the gesture, you'll get right back to your video, like nothing has happened. The other "popular" gesture in BlackBerry 10 is the 'swipe up' movement which is used for unlocking the device and returning to the homescreen.
There are some pretty cool ideas in BlackBerry 10, but, at least for now, we just can find something so awesome in it that would make us abandon our current platforms. Of course, it's too early to draw any conclusions about BB 10 and the Z10, plus, we do hope that BlackBerry will be quick to update its new OS with even more new features.
Release date
There isn't a specific release date for the BlackBerry Z10 yet, at least not for all markets. In the UK, for example, the phone will be available on January 31, which is great, but other countries like the US will have to wait until sometime in mid-March. Pricing info is also unavailable at the moment, but it's relatively safe to assume that the subsidized Z10 will cost $199 on a two-year contract, which we think is fare.
How do you guys find the new BlackBerry Z10? Do you like it? Are you planning to buy one?