BlackBerry Q10 hands-on
17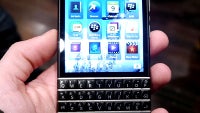 We managed to get some hands-on time up close and personal
yet again
with the
BlackBerry Q10
QWERTY-laden handset that is running the newest BlackBerry 10 mobile OS.
As a reminder the Q10 sports a 3.1 Super AMOLED display with the square 720x720 pixels of resolution and is powered by a dual-core processor, laden with 2 GB of RAM, 16 GB of storage and a memory card.
We can reconfirm that it is a very well-built device, with a
compact chassis
that leaves you with a solid feel in the hand, and the grip is further aided by the soft touch plastic on the back. The handset exudes an overall
premium feel
with very responsive buttons and deep key travel on the physical QWERTY keyboard - something we've come to expect from this BlackBerry form factor, and the Q10 doesn't disappoint.
The screen is excellent, with very high
360ppi pixel density
, and the typical for AMOLED deep blacks and excellent viewing angles, alongside somewhat oversaturated, jolly colors.
When it comes to BlackBerry 10, well, we have to hand it to the Canadians for producing a visually appealing, yet simple and functional interface, which we can affirm is being navigated on the Q10 without lag or stuttering, hinting at a pretty optimized for the processing power code.
Add to these the modern 8MP camera capable of Full HD video, and BlackBerry is back with a bang in its most popular form factor, we just have to wait the spring for its retail version to it shelves here in the US. In the meantime, feast your eyes on our Q10 hands-on photos and hit the slideshow below.