BlackBerry CEO finally admits the company is "open to partnerships"
30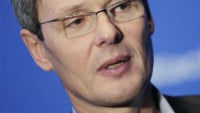 There have been constant rumors that BlackBerry's ultimate goal in its current strategy is to rebound just enough to be able to sell the company. BlackBerry CEO Thorsten Heins still won't admit that is true, but he did finally say at BlackBerry's annual shareholders meeting today that he is "open to partnerships".
BlackBerry did not have a good showing in its
most recent quarter
, but Heins tried to make the best of it, saying:
We obviously did not deliver what many analysts and investors expected in the short term. We're driving night and day to deliver improvements.
Heins also deflected questions about selling the company, saying that he didn't want to "distract management from what [he expects] them to do." But, that doesn't mean that Heins is completely closed off to the idea of outside help. He admitted that BlackBerry is "100% open to partnerships and alliances", but he didn't detail what those partnerships might be.
Heins continued to urge shareholders to be patient as his plans unfold, but it is unclear how much patience shareholders will have as the company continues to lose money.