Billionaire trader tells clients that Sprint or Dish could go after T-Mobile
14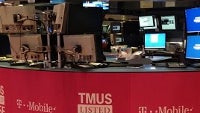 Hedge Fund manager John Paulson is a successful investor who made $15 billion for his clients by being a bear in the subprime market in 2007. Paulson & Co.'s largest fund buys shares of companies involved in mergers and acquisitions. The $17 billion fund had held shares in MetroPCS prior to T-Mobile's purchase of the pre-paid carrier, which has now turned into a
2.3% stake in T-Mobile
. Paulson plans on holding on to the stake because he sees T-Mobile as a potential target for other players in the industry. In a letter to clients, the money manager said that T-Mobile could end up being pursued by either Sprint or Dish Networks.
"While the merger closed, we continue to hold the stock as we believe that T-Mobile remains a potential takeover target for either Dish or Sprint."
-John Paulson in a letter to clients
Paulson and Co. happens to be the third largest holder in Leap Wireless, which is being acquired by AT&T for $1.2 billion. That deal could lead some of the major carriers to take another look at consolidation. T-Mobile had been considered a possible buyer for Leap Wireless after seeing its stock rise 50% since May. That gives it a currency to use for acquisitions, and with
Leap's shares continuing to trade above AT&T's bid of $15 a share
, Wall Street is expecting another player to come into the deal with a higher price.
Meanwhile, Dish has been thwarted not once but twice in an effort to gain spectrum in order to start a new wireless carrier. Dish lost out to SoftBank after offering to buy Sprint for $25.5 billion, and was outbid by Sprint for Clearwire. Charles Ergen and his company should be seen as armed and dangerous in this game of consolidation in the mobile operator industry.
source:
Bloomberg