Best new games for iPhone and Android
16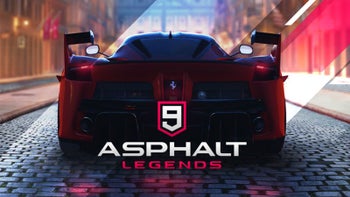 It's summertime! And yes, that means time off of school and just more free time for everybody.
And if you like to play games, this is a golden opportunity to catch up with your gaming habit, even on a phone. That's why we're here to help: we have selected the best new games for iPhone, iPad and Android devices, games from different genre, but all sharing a common engaging gameplay that you will like.
From the graphically amazing new Asphalt arcade racing game to the clever puzzles of Homo Machina, these games are diverse and entertaining, each in its own right. Let's waste no time and see what they are...
Asphalt 9: Legends
The latest installment in the Asphalt series is surely the one game (apart from
Fortnite
) that has generated the most buzz in the mobile gaming space. The newest Asphalt is fast, dynamic, it has captivating visuals, but also it's a simpler game, one with less manual control and more of that sheer joy of an interactive movie experience. Whether you like this or not is up to you, but Asphalt 9 is definitely worth checking out.
Darkness Rises
Darkness Rises is a new action RPG game that you can play on iOS and Android, and it's a treat. With graphics more reminiscent of a console game and a fast-paced gameplay, Darkness Rises will have you select through various classes of player from an earth-shattering Berserker to the magic-wielding Wizard. From then on, it's a battle against a hoard of monsters. Use your class hero's unique skills and develop a fighter that will be able to face tough boss battles because there will be some.
Homo Machina
A different, clever puzzler type of game, Homo Machina walks you through the miraculous ways our human body works. Made to explore every inner and outer experience of our body, from our vision to our central nervous system, the game will ask you to solve puzzles to unveil the workings and the mechanics of bodily functions. Interesting fact: the stand-out, surreal atmosphere of the game is inspired by avant-garde scientist Fritz Kahn.
Valkyrie Profile Lenneth
A jRPG by Square Enix, Valkyrie Profile Lenneth is a game that RPG lovers will rush to download. And it's worth it: the game features an immersive story set to the background of a Norse mythology world as your heroine, a Valkyrie, descends on this realm for some epic combat. The game mechanics are what really stands out here as you get a lot of variations in movements and the tales that the game is based around make it a memorable experience.
Dead Island Survivors
A top-down action zombie game with a lot of blood and fighting. Yes, Dead Island Survivors is all sorts of fun in an action RPG format where you develop legendary heroes and collect powerful weapons. The game takes place in various hand-made islands and you can see the gameplay trailer that shows all the action.
Battleheart 2
Finally, a sequel to the 2011 role-playing game Battleheart, the second edition puts you in command of a party of heroes on a mission to hack and slash through hordes of monsters in real-time battle. The game features 12 different heroes and you can play around or in co-op multiplayer.
Space Pioneer
An action RPG alien shooter with explosive, cartoon graphics and an intergalactic atmosphere. It's not just about building a great hero, but also having the fast reflexes to shoot and fight in this top-down game.
Mayhem Combat
A brawler for those who love the genre, Mayhem Combat is every bit as dynamic as you'd expect it. It mixes in battle royale elements for more fun and of course is all about the multiplayer action.
Dere Evil Exe
The game is a combination between a terrifying thriller with a gripping story and an unorthodox retro platformer with unique puzzles and obstacles.
Motorsport Manager 3
Not only do we get a new Asphalt game this month, but we also have a new Motorsport racing strategy game that is polished to the tee. Build up your very own motorsport team from scratch, making every big decision. Hire the drivers, assemble the team, develop your car and mastermind your way to glory.
Look, Your Loot!
The simple rules and the fast-paced gameplay make this tiny card-based role-playing game a joy to play.