Best baby video monitors that stream to your phone
2
We may earn a commission if you make a purchase from the links on this page.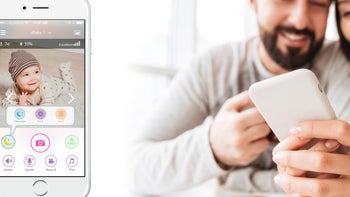 Gone are the days when you had to peek into your baby's room to see how they are doing, risking to wake them up in the process, or when you had to choose between leaving them to sleep unsupervised to build independence, or waking up at each sound your infant makes in the cot next to your bed.
Long story short, there are connected baby monitors now, allowing you to stream the feed to your phone wherever you are, and they are getting better by the day, with two-way communication and even lullaby singing when things get perilously close to crying. Check out some of the best baby video monitors you can tether to the phone in your pocket so that Junior is never alone and never out of Big Brother's caring sight.
Cocoon Cam Plus with a breathing monitor
Cocoon offers all the prerequisites of a nice video baby monitor suitable for the digital nomad - 1080p footage, a nice app for iOS or Android, and audio alerts for when your baby is crying out loud, but its biggest added value are... breathing patterns.
Yep, Cocoon's camera has been developed to detect when your baby is sleeping and breathing rhythmically, so you can fall asleep in good conscience yourself. The founders are still to offer stats and graph of your baby's sleeping habits, similar to ones you get from health and fitness bands, but the feature shouldn't be far behind.
iBaby Care M7

This complete system is more expensive than the Cocoon offering, yet it has 5GHz Wi-Fi support for uninterrupted streaming, two-way talk, as well as air quality monitor built it. The footage can go up to 1080p, which is more than enough, and the iBay Care M7 system can diversify your lullaby singing with white noise or bedtime stories, too. There is a small moonlight lamp, too, in case your infant gets scared of the dark.
NETGEAR Arlo Baby Monitor
Netgear's Arlo line adds bunny ears to a total baby monitoring system, complete with air quality sensors measuring things like temperature and humidity. Talk to your baby, record your own bedtime songs and stories to play back to the infant, or choose from the preset ones.
The Arlo app for your phone can send sound, motion, or air quality alerts to your phone, and the system is compatible with Alexa, Apple's HomeKit, Google Assistant, and other home automation standards to blend with your connected home. You've got a week of footage stored in the cloud for free, too, and there are a few other storage options to choose from for a fee.



Mi Home Baby Monitor Camera
Not in the mood to splurge two Benjies on a baby monitor? We hear ya, that's why we've included Xiaomi's Mi home camera, available in the company's US store for accessories. At just $40 and with two-way communication via the built-in mic and speaker, it's a cheapo way to monitor your kid. As for the specs, it is 1080p, has 5GHz Wi-Fi support for steady streaming, 130° wide-angle lens to minimize dead spots, and infrared lighting for night vision without disturbance.
It can be motion-activated or hibernate when it senses your family's phones around, so as to prevent undesired recording. At $40 for one, and discounts for a pack of two, it does most of what you'd need in a simple baby monitor but does it on a budget. Your budget.