The best LG phones in 2022
23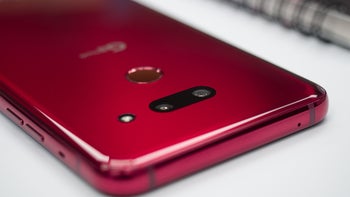 It's been now a bit more than a year since LG decided to officially call it quits on its involvement in the smartphone market. For years, LG was struggling to make a lot of revenue from its smartphone division despite bringing some quite innovative phones to the mobile tech arena. The company officially left the smartphone market in April, 2021.

Despite the fact the company will not be making any new phones (sadly for all the innovations we were seeing from them), there are still many good phones the company released in 2020 and in 2021, that will continue to be supported for their remaining time. This way, if you want to get an LG phone, you can still do that. However, we would advise you to also check for how long the phone will be supported before you make your final decision.
So, without further ado, let's check out which are the best LG phones you can buy in 2022.
Best LG phones summary:
LG V60 ThinQ
LG's 2020 flagship is not of the G series — but instead, from the V-line of phones. The LG V60 ThinQ is currently one of the best LG phone you can buy. It comes decently powerful hardware and — not to be outdone by Samsung — even offers 8K video recording as well. It doesn't have any sort of crazy zoom on board, but that's arguably something to fret over. The phone comes with a 2020 flagship-grade Snapdragon 865 processor, a generous 5,000mAh battery cell and 5G support.
It's still one of the best LG camera phones, packed with everything the company can deliver. A full trio of wide-angle, ultra-wide-angle, and telephoto cameras with an added Time of Flight sensor for better AR applications. Overall, the camera takes pleasing photos, with good details. Color reproduction is accurate, and the saturation is great for lifelike but vivid photographs.
The V60 ThinQ does also have a Dual Screen accessory, which is listed as a separate buy, but a lot of places offer it bundled with the V60 as a promo offer. It somewhat transforms the phone into a foldable — not as fancy as the actual bendy devices out there, but still functional enough.
LG G8 ThinQ
The LG G8 ThinQ was released in early 2019 and at the time of it's release, it was the best LG phone. And right now, it is still good, despite probably coming close to the end of its software support cycle. The G8 ThinQ features a cool "Z Camera" on the front — a sensor that allowed not only face unlock, but palm vein reading as well. LG also wanted to use it for gesture navigation where you can operate the phone by just waving a hand in front of it but the effect was... hit and miss.

It seems LG gave up on the Z Camera for the time being, so the G8 ThinQ is probably your best option if you want to try one of these. Besides, it has gone down in price considerably since launch, making it a pretty good buy over some midrangers on the market. Of course, it will be almost a two-year old flagship, but nevertheless, it is still capable of good performance for the price it is now available at.
In 2020, LG changed its naming strategy for phones with the hopes of turning things around in the market (before it eventually decided to call it quits). The LG Velvet was the first phone the company released with the new naming scheme and it features a beautiful and unique teardrop camera design.

The phone in itself performs well with most everyday tasks, but it is far from being a top-notch flagship device. The reason we recommend it as one of the best LG phones in 2022 is because of the fact it is among the newer phones released before LG decided to quit the business. It's recent release means that it will be getting more software updates (of course, depending on your region) than the other devices on this list. If software support is the thing that's most important for you, you can go for the LG Velvet.

LG G7 ThinQ
LG's 2018 "mainstream" flagship — LG G7 ThinQ sports the top-tier hardware of yesteryear and builds on the design language that started with the LG G6. An extra-long 19.5:9 display, a glass back, metal frame, water-resistance, and wide-angle lenses on the secondary back-facing camera and the selfie snapper.

It has a super-large F1.6 aperture for the main camera, the night shot mode — as seen on the upgraded V30s ThinQ —, a notch design for the phone's front — like it or not —, and while we did not get stereo speakers here,
the phone's new Boombox
was definitely OK-sounding.
There are only a few of these left floating around, for sub-$300 pricing, too. Not a bad deal — it'll definitely perform better than most $300 budget phones from today.

The Stylo 6 comes equipped with its own stylus, but don't jump for joy thinking it's Samsung S Pen-level sophisticated — it's just a regular, run-of-the-mill capacitive stylus. That said, the Stylo 6 rocks a spatious 6.8-inch display with a 2460 x 1080 pixel resolution. It's powered by the MediaTek P35 processor and comes equipped with 4GB of RAM. That's quite modest by the standards in the industry right now, but for a budget phone with a stylus it is acceptable enough.
It features a triple camera setup, including a main 13MP shooter, wide-angle lens, and depth sensor. The phone manages to capture acceptable amounts of detail under good lighting, with pleasing colors and good levels of contrast and saturation.
In other words, it's a budget-friendly phone through and through.

Bonus category: the LG Wing
A very innovative and quite interesting phone is the LG Wing, the second phone the company released with the updated naming scheme back in 2020. You might want to get it more of like a secondary fun device to play around with rather than your main daily driver. Despite that, though, if you're into interesting and geeky-looking phones, you might not find another like this one for a while on the mobile market.

This handset is a bit on the expensive side, but plenty of retailers will have it discounted. So, if you're able to score a great deal on it, it will probably be worth it for your smartphone-geek side.

LG may have left the business, but its phones still have some lifetime left
As we already stated in the beginning of this article, LG has decided to call it quits on the smartphone game. The decision, although saddening to loyal LG fans, is understandable with the company's struggles to gain market share. Despite that, though, the company still has some great LG phones available in 2022, and the best LG phones to buy in 2022 appear here in this list.
So, if you've decided to go for an LG phone this year, the company has something to offer you. From budget-friendly stylus-wielding phones, to the beautiful midrange LG Velvet, to the flagship V60 ThinQ, there's something for anyone here.