Best Buy cuts the BlackBerry Z10 for AT&T to $0 on contract
16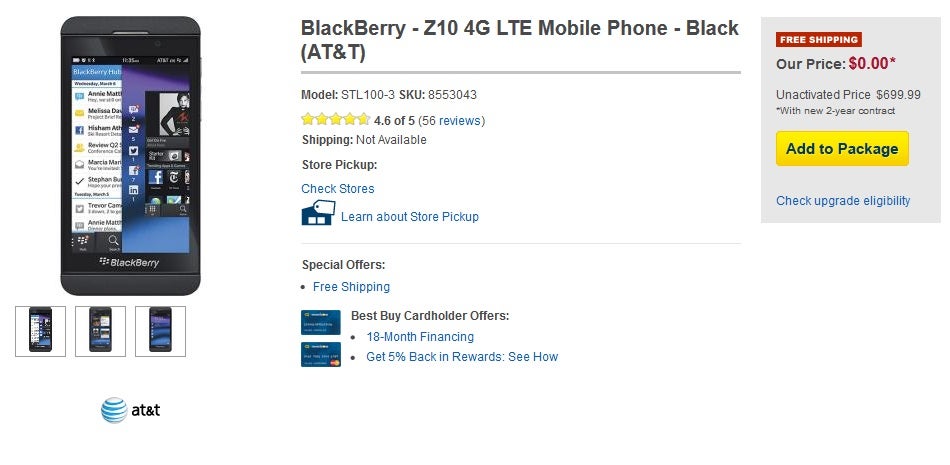 We are not sure if this is a limited time offer or if the big box retailer is feverishly trying to free up space in the storage area for some new product, but if you are an AT&T customer and are eligible, a brand new
BlackBerry Z10
for the big bold price of "zero." The Z10 for Verizon is still listed at the recently reduced price of $49 and T-Mobile's is still $199 (sold under the old rate structure with contract).
It is no secret that BlackBerry's new OS 10 devices have not been selling up to expectations. Just last week
prices for the Z10 for AT&T and Verizon were lowered to $49
. BlackBerry said such price changes are
part of the normal lifecycle of a mobile device
, and further said that it is common to help get inventory off the shelves to make room for future products. Since the Z10 has only been available in the US since March, going from $199 to $0 does not look like a life cycle to us.
One thing is certain, prices do not typically decrease in the face of high demand. It is far too early to be clearing space for the BlackBerry A10, said to arrive in November. Given how underwhelming the
rumored specs and features are for the A10
, it is perfectly natural to wonder if anything can be done to reverse the trends facing BlackBerry.
The Z10 is not a terrible device either, in the face of struggling sales, lower pricing becomes harder to ignore and can certainly stimulate sales activity. "Free" is a great for a lot of products, and the BlackBerry Z10 is a great catch at that price for sure.
source:
Best Buy