Best Apple iPad Air cases
6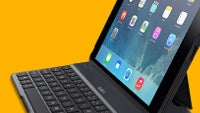 Apple unveiled its drastically lighter and thinner
iPad Air
(previously referred to as Apple iPad 5), and if you've already fallen in love with the new 9.7-inch tablet, it may be about time to dress it up. From ultimate protection and stands to an added keyboard, we've picked the best iPad Air cases from makers that you've actually heard of.
Let's remember that the
Apple iPad Air will launch in stores on November 1st
, and that's around when the cases below will also become available. However you can pre-order some of these cases right now, and for others you have a glimpse at the maker's upcoming collection.
Apple also chips in with its own iPad Smart Case for $80 and with iPad Smart Cover for $40. These two cases are traditionally a great fit and we love the way the small cover folds and attaches magnetically.
The other cases you'd find below include names like the Otterbox Defender that will keep that light and thin iPad Air in perfect safety. There are more stylish and colorful ways to dress up your iPad to show the world your personality and Speck's case collection is one example. Take a look and make sure to let us know which ones you like best in the comments right below.
Recommended Stories