Belgian driving school tell students to text while driving in order to pass and get their license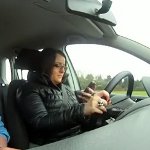 Nowadays, student drivers have a lot more to worry about while driving, as they can be distracted by a multitude of things both inside and out of the car. As we've seen in the last decade, texting has exploded amongst mobile phone users, and as we've seen, it can have some fatal consequences as well.
Do you happen to remember your first driving test to obtain your license? Of course, most people remember that, but for these new students in
Belgian
driving school, they got the surprise of their lives when they're told about something entirely unexpected. Well, the non-profit organization called
Responsible Young Drivers
told new driving students that they needed to prove themselves while being "
able to use a mobile phone while driving.
"
Certainly, you can imagine the thoughts going inside of their heads, but nonetheless, they comply with the request – so they can pass the test naturally. As the video shows, texting while driving simply amounts to nothing more than downright distracted driving. There's no arguing the perils surrounding texting while driving, and as we see in the video, students are at a mess while trying to drive. From hitting cones to abruptly hitting the brakes to avoid obstacles, it's actually a good lesson to show people the dangers behind distracted driving.
source:
YouTube
via
Gizmodo
&
Textually