Barnes and Noble to debut new Nook tablet this summer
5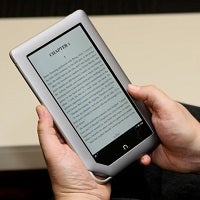 If the Nook is not the first thing you think of when you think of tablets, or e-readers, you are not alone. Barnes and Noble has had its work cut out for it in trying to move the devices for quite a while.
It is not that the Nook tablets have priced themselves out of competition, they are competitively priced. It is more along the lines of the overall package and what it offers versus other tablets. The result has been lackluster sales, down over 60% for the most recent holiday shopping season.
It seemed
all but apparent that the plug was going to get pulled
on the Nook, but it appears the book retailer is going to keep giving it a try, this time with "several world-class hardware partners" to deliver the next Nook during the company's next fiscal year.
That means a new Nook could make its debut as early as this July. CEO Michael Huseby did not say who the hardware partners were, nor what types of features or specifications might accompany the new Nook. More importantly, these unnamed partners are also familiar with "content packaging and distribution."
The media centric Nook devices to date have been Android powered, with access to Google Play and all the goodies that can be found there. Since Google Play also sells books though, Barnes and Noble leaves a notable amount of revenue on the table.
It will be interesting to see what Barnes and Noble, along with whomever its partners are, put together for the next generation of Nook tablets. In such a crowded field, finding that special "differentiator" will be the make-or-break for the Nook.
source:
Ars Technica