Barnes & Noble will no longer make Nook tablets, but hopes someone might
5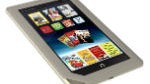 How's this for a business strategy: you are continuously losing money on the hardware you build, so you decide to give others the opportunity to build the hardware that customers apparently don't want. It's foolproof, right? Well, Barnes & Noble seems to think so, because the company has said that it will stop making Nook tablets, and will move to a "partner-centric model" to let others make the tablets instead.
We have
heard about this plan
for a while, but we still don't really see the value in it for other companies though. The Kindle seems to have the market cornered on media-centric tablets, and most other companies make their own 7-8" tablets. Samsung has its Galaxy Tab line, Asus has the Nexus 7 and MeMo, Acer has the Iconia series, etc. It doesn't make much sense for HTC or Motorola to partner with B&N, and Sony doesn't seem interested in 7" tablets. Maybe B&N can convince others like ZTE, Huawei, or LG, but even if that does happen, why would customers be interested in the devices?
Barnes & Noble has said it will continue to make the black and white e-readers, but will look for partners on tablets. This seems to point to B&N focusing on improving the software side of the Nook while offering a wider range of hardware options. It's certainly possible that the plan will work out, but given that B&N has no partners lined up (at least according to the announcement), it seems very likely that this may simply be the end of the Nook tablet line.