Bandits raid Brazilian factory, steal $36 million worth of Samsung electronics
8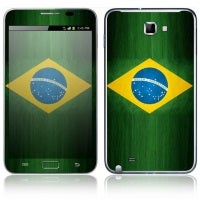 According to a report, 20 armed men raided an electronics factory in Campinas, Brazil during the night shift, and took off with $36 million worth of Samsung smartphones, tablets, and notebooks. Luckily, there were no human casualties.
More than 200 employees were at work during the criminal operation, which is said to have lasted over three hours. As some were held hostage while the majority of workers continued production, the thieves loaded seven trucks full of stolen goods. Employees had no means to contact police, because the bandits removed the batteries from their phones.
Brazilian authorities are investigating the crime as we speak. They believe the operation was an inside job, as the the thieves were well informed of the factory's layout and didn't use violence against the workers. Samsung issued a statement, saying that it's "fully cooperating with the ongoing police investigation" and "will do its best" to avoid such incidents in the future.
via
9to5Google