Awkward iOS app gets people to confess their secrets in 10-second blurry videos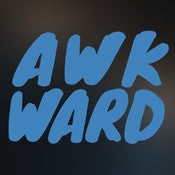 Awkwardness is quite something. Some of us carry it inside and embrace it. Others are embarrassed of it, which only escalates it further. And then, there are those that capitalize on awkwardness - comedy movie producers and frat-boy Silicon Valley tech entrepreneurs. As the Secret and Whisper apps are going strong with turning our smartphones into portable gossip machines, a new anonymous messaging try-hard appears on the horizon - this time, out of Western Europe. Meet Awkward, from Germany.
Available on iOS, Awkward is an app that lets you record and share your 10-second confessions on video, blurring your face so you'd be unrecognisable. What follows is the standard social network ordeal - the video is uploaded, and you're given a link to share via email, Facebook, Twitter, and embedding. Of course, you can also watch others' confessions, up-vote them, and flag inappropriate content. Of which you may find plenty, even at the app's early stage.
If you feel like getting something off your chest in blurry video format, download Awkward from the link below. And get in the mood for:
Download Awkward:
iOS