Avantgarde: Gold in WM Smartphones by Gresso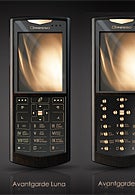 Gresso
announced two new phones, upgrading its line of wireless devices with smartphones, as the new models will use Windows Mobile 6 Standard OS. Actually, it is one phone in two design variants, with the only difference being the keyboard and the price. Both are from the
Avantgarde Collection
and use African Blackwood and Titanium to express high class. The first variant called
Sol
has its keys made of pure gold, while the second one called
Luna
(not to be mixed with the Nokia Luna 8600) has laser etched keypad. Interesting is that the numbers on the both variants are with Roman numerals instead of the standard Arabic ones found on every other phone.
The Avantgarde phones have 65k color 240x320 QVGA displays, 2-megapixel cameras the whole functionality of a WM phone, but we are not sure this is the most important thing for an avantgarde phone made of such materials …
The Avantgarde Collection will be launched in the fourth quarter of the year with price of respectively ~$9650 (7000EUR) for the Sol and ~$6900 (5000EUR) for the Luna.
source:
Gresso