Archos 101 XS 2 Hands-on
0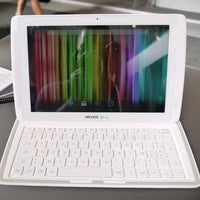 Is it a tablet? Is it a laptop? Well, it is a mash-up of both, actually – the Archos 101 XS 2 can be used as a stand-alone tablet, but it comes bundled with a hardware keyboard, in which it can be docked. In other words, it serves the purpose of both an entertainment and a productivity device. Its price is also pretty reasonable, but we'll get to that later.
For the most part, we're satisfied with its design. The Archos 101 XS 2 is made mostly out of matte plastic, but it feels well-built and the metallic back adds a much-needed dose of style. The ports and buttons are easy to access while the stereo speakers are located at the front where they should be. However, the tablet feels quite heavy so we weren't comfortable holding it with a single hand for too long.
Before docking the tablet into the hardware keyboard, one must manually pull up a stand, which provides support for the slate and keeps it in place – not the most elegant solution ever. Both units are held together with magnets and the connection between them is actually quite firm. When the device is not in use, the keyboard dock can act as a magnetically attached protective cover. The keyboard dock itself doesn't have a battery, but it has a port, to which the tablet's charger can be plugged in order to have device's internal battery refilled. Typing on it does feel awkward, at least at first, since the keys are smaller than they are on a standard-sized keyboard. Yet with a little practice, one should get used to the keyboard's feel.
The 10.1-inch screen on the Archos 101 XS 2 is rather unimpressive. It has a resolution of 1280 by 800 pixels, and while that gets the job done, fine details in images and graphics are missing. Also, we noticed that its surface is quite reflective while the brightness output is more on the low side, so using the device outdoors could be a challenge.
Android
4.2
in a mostly stock form is loaded onto the Archos 101 XS 2. It runs smoothly, which isn't much of a surprise since the tablet comes with a quad-core 1.6GHz processor and 2GB of RAM for seamless multitasking. A decent amount of storage – 16 gigs – is on board, but extra can be added as the tablet has a microSD card slot. The HDMI output makes it possible to connect the Archos 101 XS 2 to an HDTV.
There are two cameras on the Archos 101 XS 2 – one at the front and one at the back. They are both quite basic so expect photos and videos of mediocre quality.
To wrap things up, the Archos 101 XS 2 tablet has little to impress with on its own, but the keyboard it comes bundled with is an asset that should make the device stand out among similarly priced alternatives. Expect seeing the device on shelves in select markets starting from November of this year, priced at about €270.