Samsung executive explains why the company decided to have the Galaxy Fold close inwards
27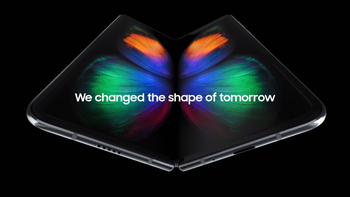 Don't expect to find the
Samsung Galaxy Fold
sitting on the shelves at your carrier's local store. More details about the launch of the Galaxy Fold was
mentioned in a story printed by The Verge
, and it seems that only select retail locations will have the foldable phone in stock. The report quotes Kate Beaumont, director of product, services, and commercial strategy at Samsung U.K., as saying that another press conference related to the Galaxy Fold will be held in April. This event will take place just a few weeks before the April 26th release of the phone.
Beaumont added that supplies of the Galaxy Fold at launch will be less than the number of
Galaxy S10
units available for that model's March 8th release. Calling the foldable phone a "super premium" device (and at $1,980 it surely is), the executive says that purchasing it will be a "very personal experience," with "intensive aftercare." Samsung isn't saying whether it will restrict the Galaxy Fold to high-end retailers, and more details will be revealed in April.
"This is a super premium device, and we want to make sure it has a concierge-like service and experience, so it's not going to be on display in all stores. You're not going to see it on the stands, we want to make sure it's a very personal experience. There will be quite intensive aftercare that goes with it as well."-Kate Beaumont, director of product, services, and commercial strategy, Samsung U.K.
Samsung chose to have the Galaxy Fold close inwards compared to Huawei's decision to have its foldable
Mate X
close outwards. Beaumont says that Samsung tried a number of different options, but in the end it decided that having the larger 7.3-inch screen on the inside is the best way to protect the display. She says that "if you have the fold on the outside it doesn't take quite the same amount of research and development to get that device to fold as it does something that is folding with a much lower angle degree on it."
Keeping with the idea that the Galaxy Fold is a special device, it will ship in premium packaging and include a free pair of Samsung's $130 Galaxy Buds.