Apple is buying more iPhone parts from certain countries
1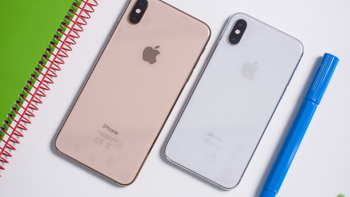 For the first time in Apple's history, the company has more suppliers in China and Hong Kong than in the U.S. and Japan.
The Nikkei Asian Review
put together a list of Apple's top 200 suppliers. While the 46 suppliers located in Taiwan heads the list, companies in mainland China and Hong Kong are next, making up 41 of the top 200 companies that Apple sources parts from.
The number of U.S. based companies that supply Apple with components has dropped to 37, a 32% decline since 2012. Meanwhile, the number of Chinese suppliers has tripled over the same time period. Japan accounts for 38 suppliers in the top 200, edging out the U.S. The big question for Apple is whether the U.S.-China trade war will ultimately have an effect on the cost and availability of the parts that Apple receives from its suppliers in China.
The report cites Luxshare Precision Industry, or Luxshare-ICT as a Chinese based supplier that has benefited from being a part of Apple's supply chain. In 2012, the firm supplied connectors to Apple, and five years later the firm was assembling AirPods for Apple. That made the company the first outside of Taiwan to assemble an Apple product. Luxshare now has eight sites that manufacture devices for Apple, up from one in 2012. One supply chain executive says that Apple's Taiwan based contract manufacturers including Foxconn, Pegatron, Quanta and Compal should not underestimate Luxshare.
Apple is under pressure from President Trump to add manufacturing jobs in the states.

Apple is also considering expanding its supply chain in other countries. In India, the company has three firms assembling iPhone units and five that provide components. Meanwhile, some of Apple's suppliers have operations in Vietnam, which could come in handy should the U.S.-China trade war become a hurdle too high for Apple to clear. However, the number of Vietnamese facilities run by Apple suppliers did not increase in 2018.
"Chinese companies are rising quickly to become formidable competitors to Taiwanese or Japanese companies, as they have chances to learn from these foreign investors and even acquire facilities from them to quickly build patent portfolios and production capacities."-Chiu Shih-fang, smartphone and supply chain analyst, Taiwan Institute of Economic Research
Spurred on by President Donald Trump's continued demand that Apple move more manufacturing jobs to the states, suppliers to the company increased U.S. production facilities to 65 last year, a gain of 14%. While up from 2017's figure, the 65 stateside facilities run by Apple suppliers is down 21% from 2012. Still, to placate the president, Apple has pointed out that last year it supported over 450,000 jobs in the states, spending $60 billion with over 9,000 component suppliers. That is up 10% over 2017 figures.
As we pointed out, Taiwan still hosts the most Apple suppliers of any country in the world and that might not change for some time. Chiu Shih-fang,who works at the Taiwan Institute of Economic Research analyzing smartphones and supply chains, notes that moving a smartphone supply chain is "very time-consuming work," because there are so many different components involved. In addition, he says that considering that the iPhone has not yet been placed on the tariff list, and that the trade war could be ended with a deal between the two countries, there is no urgency on the part of suppliers to move facilities out of Taiwan and mainland China.
Until the U.S.-China trade war comes to an end, Apple is going to have to keep an ear to the ground to see whether it needs to make any changes to its current supply chain.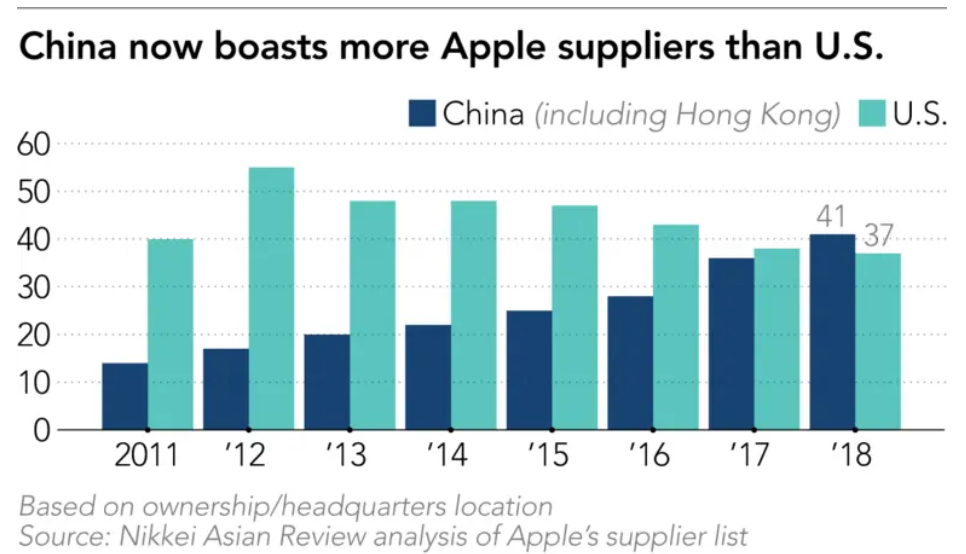 Apple continues to grow its Chinese supply chain