Apple's next smartphone to be called the 'iPhone 6SE'?
62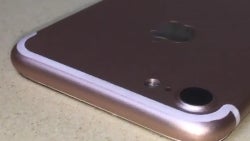 The recent flurry of next-gen iPhone-related reports have offered a fairly solid idea of what we
think
can be expected out of Cupertino in the coming months. There's still a while to go until the purported roll-out of the new models, though, and so plenty of scope for a few twists and turns along the familiarly bumpy road. Just behind
Evan Blass' recent revelation
that the upcoming iPhone series could be announced on September 12th before a September 16th retail, a further report indicates that Apple could opt for the 'iPhone 6SE' moniker this time around.
For a firm that tends to strive for simplification and the stripping away of unnecessary baggage at every opportunity, such a tongue-twisting name would go somewhat against the fruit company's general ethos. However, it has been noted on numerous occasions that the forthcoming iPhone(s) will offer evolutionary upgrades, and will serve as more of a refresh than a radical enhancement. Thus, it's not beyond the realm of possibility that the new iPhone line will stay a part of the '6' series, and given the rudimentary tweaks we've seen through leaks, perhaps deservedly so.
German blog
apfelpage
cites sources familiar with the iPhone packaging process in its naming claims. The iPhone 6SE, naturally, is noted as the successor to the current iPhone 6s, though no details are shared about the precise naming of the 5.5-inch model.
The report is cautiously worded, so nothing should be taken as gospel for now. Even if the information is accurate at this point, there's no reason why Apple shouldn't change its mind on the name right up until the day of the grand unveiling.
What do you make of the iPhone 6SE naming scheme? Let us know of your take in the comments, and be sure to check
our rumor round-up
for the latest info on the next-gen Apple flagship
and its larger cousin
.