Apple's latest Photo Stream beta outs iPhone 5 design
58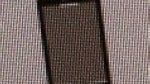 A icon of an unusual looking iPhone was spotted in the latest beta version of Apple's Photo Stream. The icon, prompting a Photo Stream user to take a picture using an iPhone, iPad or iPod touch, shows a device
with a wider display and an elongated home screen
. Sound familiar? Many of those who have claimed to see a prototype or the designs of the upcoming Apple iPhone 5 have claimed that the handset has a wide display that nearly reaches the edge of both sides of the unit, and a stretched out home button that helps you
use gestures to navigate the phone
.
Note the similarity between the icon and the rendering of the phone seen on This is my next. Using the Photo Stream icon as a guide, it would appear that
the new Apple iPhone 5 will have a 3.7 inch screen
. Of course, there is the chance that the icon was developed without any regard to the next-gen iPhone. The good news is, with an
expected introduction of the model later this month
by Apple, we won't have that long to find out how accurate the Photo Stream icon is to the actual Apple iPhone 5.
source:
9to5Mac