Apple HomePod grabs 6% of the active user base for smart speakers in the U.S.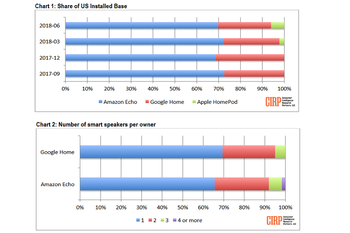 Apple's
HomePod
amassed a 6% share of active smart speaker users in the U.S. at the end of June, according to data released by Consumer Intelligence Research Partners (CIRP). That trails the 70% share of the active U.S. installed base for the device that is held by category creator Amazon. The latter's Echo smart speaker line launched in the U.S. on April 8th, 2015, and introduced virtual personal assistant Alexa.
At the end of the second quarter, Google Home smart speakers had a 24% share of the active installed base for smart speakers in the U.S. The latest data also reveals that 34% of Echo users and 31% of those with an Echo Home have more than one unit. 10% of Echo users have three or more units installed. The data was compiled from 500 HomePod, Echo and Home users who owned the devices as of June 30th.
Apple's HomePod sales have been negatively impacted by Siri's inability to perform as well as Alexa and Google Assistant. At $349.99, the device is also priced well above low-end Echo and Home models. Instead of launching during last year's holiday shopping season as originally planned,
Apple was forced to delay the HomePod's release
until February 9th. That prevented Apple from generating sales and momentum last year.
"Apple introduced HomePod in the first quarter, and now has a small but meaningful share. It took a small share of the market from both Amazon and Google. Still, Amazon has a two-year head start, and Amazon and Google each have a low-priced device that accounts for at least half of unit sales, so it's not clear how much furtherApple can establish itself in the market without a more competitive model."-Josh Lowitz, Partner and Co-Founder of CIRP