Apple's Tim Cook talks about Google and Motorola, larger iPhone screens, "crappy" Android tablet experience and more
70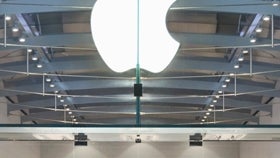 Tim Cook, Apple's CEO in the post-Jobs era, talked about a lot of things with the Wall Street Journal yesterday - beyond what we
already reported earlier
, when we mentioned that
Apple's planning to introduce a new category of products
.
In a lengthy interview published by the WSJ today, Tim Cook was asked - among other things - about his thoughts on the Google-Motorola affair (as you've probably already heard,
Google is selling Motorola Mobility to Lenovo
for almost $3 billion).
Reportedly, the move seemed "like a logical transaction" to Cook, as Google wasn't really committed to Motorola. The Apple chief went on to say that it's difficult for a company to "do hardware, software and services and to link all those things together", and that's why Google decided to get rid of Motorola.
Motorola and Google aside, Tim Cook was reminded that consumers seem to want iPhones with larger screens. He responded by saying that Apple won't "cross that line" unless "the technology is ready." He mentioned that a great screen isn't just about its size, but also about clarity, resolution, contrast, and reliability (but we already knew all this, isn't it?). Cook didn't say if Apple's ready for bigger smartphone displays this year - but rumors have it that the company could introduce
two new iPhones, both with screens larger than 4.5 inches
, before the end of 2014.
Another subject that the WSJ interview touched was tablets. Tim Cook praised the over 500,000 apps optimized for iPad, while arguing that Android tablets offer a "crappy" experience, one of the reasons for this being that apps made for them are mere stretched out smartphone apps.
You can read the full interview with Tim Cook at the source link below.
source:
The Wall Street Journal / Digits