Apple's Steve Jobs historic appearances on D conferences are now on iTunes, free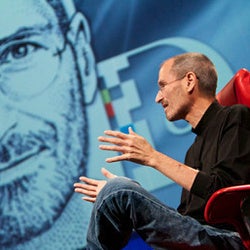 All Things Digital's D conferences are one of the places where you get to see the industry's best known executives sit in a red chair for an hour or so. This of course comes with a bonus - they have to confront some tough questions, share their experiences and speak about the future of technology. One of the speakers that became the face and focus of D conferences was Steve Jobs. You might remember him sitting in a lengthy interview along with Microsoft's Bill Gates, and you might remember him answering questions at six different D conferences.
There's no need saying that Jobs was one of the speakers we personally admired, and always looked forward to hearing. At the conferences, he spoke about Apple's mission to be different by focusing on quality products, he explained that deciding what not to build was sometimes more important than deciding what to make. And there's plenty more to take from there.
And while you can watch parts and probably even the whole thing on YouTube, AllThingsD has now released the full video and audio recordings of Steve Jobs' appearances at its conference. They are all up for grabs for free on iTunes and you can get them at the links below.