Apple touch panel supplier had a very slow June, could this mean declining sales for Apple?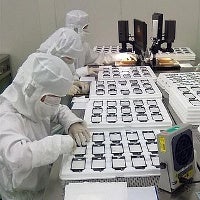 It's always hard to estimate sales of products and even more so for secretive companies like Apple, but component makers sales are usually a good indication about how its contractor is doing. And in this case the
news isn't good for Apple's touch panel supplier Wintek
, who was just revealed to have had one of its worst months this June, with sales dropping 34% month on month, according to a report by Topeka Capital analyst Brian White.
Now, hold up before you assume Apple is suffering from lower sales - it could well be that the company has transferred panel production to another company, and we've heard reports about a new iPhone with a different display technology, likely not to be made by Wintek.
But what if it turns out that Wintek's slow month means a slow month and quarter for Apple as well? That's another way to look at things. Wintek reported consolidated sales of NT$5.22 billion for June, a 33.6% drop on the month. In the last seven year, the company has averaged growth of 1%.
Now, again, this doesn't mean you should panic about your Apple stock. Wintek could also be transitioning to a new technology or preparing to start making the next iPhone. The in-cell touch panels on the new iPhone we heard rumors about were also to be made by Japanese companies like Sharp and Toshiba. Whatever it is, we'll get some idea about how Apple is doing in sales as the company announces its financials for Q2 2012 in a couple of weeks.
source:
Business Insider