Apple store in Beijing was shut down due to scalpers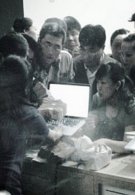 With demand for the Apple iPhone 4 still very high on a global basis, it's hard to even fathom the kind of demand it's garnering in the world's largest cell phone market. With over
100,000 units of the iPhone 4 already shipped out and sold
to customers in China, it seems as though some trouble plagued the Apple store in Beijing most recently – thus forcing it to shut down for a brief time.
It appears as though scalpers were the primary suspects for the unexpected closure as they were able to gobble up a fair share of stock from the store. Apparently, Apple at the last minute decided to lift the limit on how many iPhone 4 units that a single customer is able to buy – which ended up enabling some people to buy and leave the store with around 20 to 3o units. Naturally, these large quantities would eventually float to the grey market where they'll be sold for a profit.
At one point before the store closed, customers were absolutely almost out of control as they rushed the counter waving wads of cash in front of store employees in an attempt to get a phone themselves – eventually, the police were called in to quell the crowd.
Soon after the closure, it reopened and the store instituted a new rule when purchasing an iPhone. Basically, customers were now required to show proper identification during the time of purchase and that they can only get a single unit each. Additionally, employees are required to remove the unit from the packaging and activate it right away – which would hamper the dreams of any scalper from reselling it as "brand new."
Apple iPhone 4 Specifications
|
Review
via
9to5Mac