Apple stock surges past $550, Tim Cook sells $11 million worth of shares
26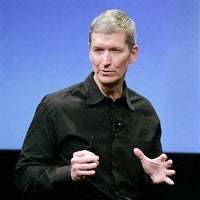 It seems that Apple stock is on steroids - it just keeps on growing and growing against market rules and despite nay-sayers predictions of Apple being the next tech bubble. After a couple of months of swapping places with Exxon Mobile as the world's most valuable company, Apple's market cap has now grown to be
$100 billion above
that of the oil giant. It's market value is more that of the economies of a couple of mid-sized countries, if you want to put in that perspective.
Apple shares are currently
trading at over $550
and it's just another good time to buy for most, but Apple's chief executive Tim Cook sold $11 million worth of his own stock awards. The CEO receives an official salary of $1 a year, but for this year alone was awarded 1 million shares vesting in 2016 and 2021. This stock award is now worth over a billion dollars.
Are you planning on buying Apple shares? Can you foresee an end to this stunning growth or will it just continue? Chime in with your opinions below.