Apple said to be having trouble ramping up iPad Mini production
27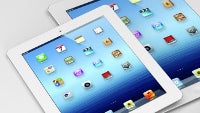 It would seem that there aren't many surprises left on the iPad Mini – we're expecting invitations to arrive shortly for an October 17th announcement, with sales to commence in early November. We've again seen
numerous photos
of parts and mockups of the Apple's upcoming seven inch tablet, so in short the price is
the major unknown
for customers.
Apple, however, may be getting its own less-pleasant set of surprises. Earlier in the month we reported that the yield on the 7.85" screens that will be used in the iPad Mini were
lower than expected
, and now Barclays Asia is reporting that Pegatron is having problems switching the type of coatings on the touchscreen glass, as well as trouble ramping the assembly process on a tablet with smaller bezels.
While this isn't expected to delay the announcement of the iPad mini, it could keep supplies constrained over the holiday season – Barclays analayst Kirk Yang expects somewhere around 10 million units to be produced between now and the end of December. Whether that sounds like plenty of units or not nearly enough probably depends on Apple's price strategy with the iPad Mini – if they price it starting at $299 to avoid competing with the iPod Touch then it's not clear how big the market is when much of the appeal of the midsized tablet market is the introductory pricing on tablets like the Nexus 7 and the Kindle Fire HD.
On the other hand, if Apple were to change their MO and cut into their margins a bit they could get the price down to $249 or even lower, and then sales numbers might indeed be constrained by how many devices they can produce. We should find out one way or another in the next couple of weeks.
source: Barclays via
Business Insider