Apple refuses to provide support to next month's GOP convention thanks to Donald Trump?
82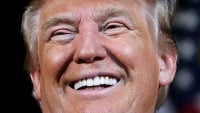 Don't expect to see any Apple products being used by the staff during the Republican National Convention being held in Cleveland next month. Normally, Apple might donate some technology or cash for the event, but the tech titan is said to be unhappy with some of the comments made by Donald Trump. The billionaire real estate developer is the party's presumptive nominee, and he has made some controversial comments about immigrants, minorities and women. As a result, multiple sources have told
Politico
that Apple will not provide any support for the convention, which will be held at the Quicken Loans Arena July 18-21, 2016
Trump and Apple didn't quite see eye to eye earlier this year when Apple ignored a court order to unlock the
Apple iPhone 5c
belonging to San Bernardino shooter Syed Farook. During a town hall-type meeting in February,
Trump even called for his followers to boycott Apple
until the company unlocked Farook's phone. One month before his call for a boycott,
Trump picked on Apple
promising that as president, he would force the company "to build their damn computers in this country instead of other countries."
While Apple will reportedly refuse to supply the GOP with these "damn computers," iPhones, iPads and other gadgets, other tech companies will apparently take up some of the slack. Google will live stream the event, Facebook will offer a lounge, and Microsoft will offer tablets and cloud storage.
In 2008, Apple gave both parties $140,000 in MacBooks and other devices for their conventions. In 2012, Apple again provided devices to both parties. While Apple isn't supporting the Republican National Convention this year, it isn't known whether Apple intends to donate devices to the Democratic National Convention being held in Philadelphia during August.
source:
Politico
via
CNET