Apple pins April 8 as its iPhone OS 4.0 "sneak peek" event
This article contains unofficial information.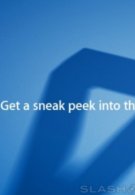 Fresh from its recent and successful launch of their iPad, Apple is continuing the momentum as they've pinned a date for the "sneak peek" unveiling of iPhone OS 4.0. With April 8 just only 3 days away, things are starting to point back to Apple's legendary smartphone as it will undoubtedly be graced with OS 4.0 in the near future. The company has sent out invitations for people to witness and experience what the next incarnation of the platform has in store for owners. There are already some speculations as to what it'll offer – like the highly requested multi-tasking feature that has yet to pull its head out of the shadows. In any case, there is no doubt that Apple is once again mustering up its shoes soon after the launch of the iPad – could we also see a special guest at the event in the form of the next generation iPhone? All eyes will surely be pointed towards the event as things are becoming more interesting out of Apple's camp.
via
SlashGear