Apple picks 8 great user videos for its new 'Shot on iPhone' campaign, check them out
17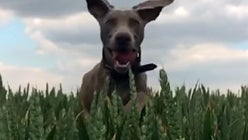 Apple's
'Shot on iPhone' series
was introduced shortly after the 8 MP iSight camera on the
iPhone 6
came into being with its large 1.5 micron Focus Pixels, to showcase what the new snapper is capable of even in the hands of amateur photographers that most of us are on any given day.
The photographs are taken by iPhone users, and are meant to show the quality of the pictures that are shot using the iSight camera on the back of the handset, and they aren't retouched or edited professionally to look like slick ads - just interesting concepts from regular folks that are sometimes able to send a powerful message.
The premise - these are all done just by using the iPhone you carry in your pocket anyway (nudge, wink). From billboards through TV ad campaigns, to sections on Apple's own site, the "Shot on iPhone" campaign is becoming an Apple staple, and it just got enriched by eight new videos, aiming to remind us that the iPhone is still one of the best all-around mobile cameras you can currently get.