Apple picking up former AMD employees for GPU team
19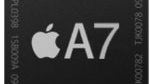 As we all know by now, the general way that Apple does iPhone releases is to have the full numbers signify a hardware design change, and the "S" release focuses on boosting the internal specs and the software. We've heard a lot about the plans for iOS 7, and it seems that Apple has been hard at work on the next-gen GPU to power its iOS devices by hiring quite a few former AMD employees.
MacRumors
has been doing some checking on LinkedIn profiles, and has found that Apple hired a number of people in January for positions like graphics architect and hardware engineer. Apparently, AMD had let go a number of employees last year, and more in January, and Apple has been busy scooping them up. Apple has reportedly hired at least 12 former AMD employees.
Now, Apple posted new positions last month for Site Managers in both Orlando and Cupertino to head up new GPU teams within the company. It may be a bit late for the Site Manager to have much impact on the internals of the upcoming iPhone 5S or iPad 5, but obviously Apple is focusing quite a bit on boosting GPU performance in its hardware.