Apple patent acknowledges the Pencil is limited
6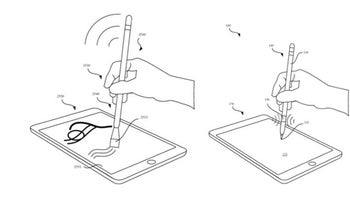 As the story goes, Steve Jobs always hated the idea of a stylus, so when Apple finally did come out with one it was called the Pencil (and of course the late Jobs had nothing to do with it.) Still a pencil is just one of many writing or drawing instruments that someone might want to use. Through software, an Apple Pencil can mimic many of those options, but a new patent shows Apple admits there are limits to software alone.
A
newly filed patent
from Apple flat out acknowledges, that despite the possibilities made available via software and touch screens, "the touch screen is unable to fully render the user's inputs due to limitations in the hardware of the electronic stylus." Of course, Apple has some ideas for how to overcome those limitations. Apple has envisioned a two-pronged strategy: one side is haptic feedback to more realistically mimic the writing/drawing implement being rendered in software, and the other side is in changeable tips for the Pencil. The latter idea is quite intricate, according to the patent. It's not just a matter of adding a different rubber tip, but rather adding a tip that might be shaped like a paintbrush head and includes sensors that could measure how the tip flexes in order to render it properly on screen.
In general, this is one of the more acceptable patents we've seen. Far too often, patents are granted for technologies that already exist (and to be fair there are already digital paintbrush options that try to do just this, but with mixed results) or for ideas that are so blatantly obvious that it's hard to give it the label of "intellectual" property. A paintbrush attachment for a Pencil isn't a world-changing idea, but if implemented properly, it could be pretty fun.