Apple named in another Chinese labor scandal
28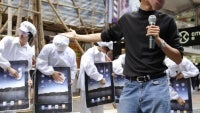 Two non-government organizations fromAmerica and China are proclaiming a boycott of Apple devices. Thereason is, again, labor issues within its manufacturing partners. TheChina Labor Watch and Green America claim that workers in an unnamedfacility that makes predominantly Apple products are being exposed totoxic chemicals that cause illnesses.
Allegedly, it would cost the companyless than a dollar per device to switch to a different process thatwon't be dangerous to workers' lives. Unfortunately, we couldn't getmore details on the matter, and Apple has not commented on the case.However, the two organizations will be giving a press-conferencetomorrow and we might receive more information.
It is known that Apple is a prestigiousand wealthy client for its Asian suppliers. An unfortunateside-effect of the company creating many new workplaces is the factthat many of its suppliers engage into such malpractice to be morecompetitive and increase production, at the cost of employeesuffering. This makes Apple an accomplice in worker rights abuse,unwilling or not. The company will probably investigate the issue, asit has done in previous cases involving China's Foxconn and Pegatron.
via PCMagazine